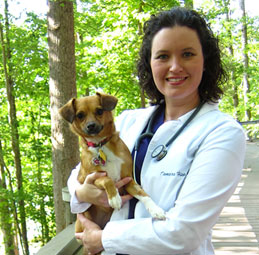 Dr. Tamara Hipp
Veterinarian
Dr. Tamara Hipp
Dr. Tamara grew up loving all kinds of animals, and wanted to be a veterinarian since childhood. Her dream came true when she accepted a position at St. George's University School of Veterinary Medicine on the island of Grenada, where she spent 3 years studying veterinary medicine. She chose to spend her 4th year of school at Auburn University School of Veterinary Medicine, and after graduation completed a small animal internship in medicine and surgery and Affiliated Veterinary Specialists in Florida.
Tamara currently practices medicine in local clinics in Raleigh and Wake Forest, in addition to providing veterinary care through Twilight Meadows. She founded Twilight Meadows in order to offer clients an option for pet euthanasia that ensures less stress and anxiety for their pets, and provides a comfortable and peaceful passing of their loved one. It is her belief that a pet's last moments should be filled with love and peace, in a familiar environment. After experiencing the level of comfort that home visits can bring to pets, she opted to expand the service to provide preventative care and treatment for minor illnesses in order reduce veterinary visit stress for both the pet and the family.
Tamara has two furry kids of her own, Lexi and Maiya (pictured). In her spare time, she enjoys tennis, horseback riding, and other forms of exercise. Being able to provide a pet and his or her family the best possible passing is an honor and a calling for her. She is a member of the International Association of Animal Hospice and Palliative Care and has achieved her Pet Loss and Grief Companioning Certificate from the Pet Loss Professionals Alliance.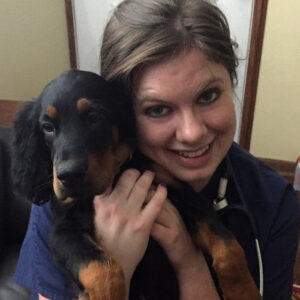 Dr. Lacy Crowley
Veterinarian
Dr. Lacy Crowley
Dr. Lacy Crowley completed her undergraduate course work at the University of Findlay and then attended The Ohio State University college of Veterinary Medicine.
She has practiced in both the private sector and as a government official but in either case she has advocated for animal welfare and the importance of the human-animal bond.
In her free time she enjoys hiking with her Gordon Setter, August or playing with her newly adopted kitten, Wednesday.
Jackie Karlic
Jackie is a mom of two and animal lover who has been surrounded by pets all of her life. She grew up in Poughkeepsie, NY, moving to Raleigh in 2007 with her now husband. Jackie has a Business Administration degree from Dutchess Community College in Poughkeepsie and a Business Management Bachelor Degree from Mercy College in Dobbs Ferry, NY. Before working for Twilight Meadows Jackie was a full time stay at home mom, and prior to that has many years of experience working in the administrative/billing end of Hospice, Inc in Poughkeepsie and then at United Hospice of Rocky Mount in Rocky Mount and Durham. She enjoyed working with hospice, and although not doing day to day care for patients, found her job rewarding.
Jackie has been with Twilight Meadows since 2017 and is who pet owners speak with first. She is very sympathetic to pet owners and takes her time to answer questions and make pet owners feel comfortable during the difficult time of making the decision to say good-bye to a beloved pet. Jackie currently lives in North Raleigh with her husband, daughter, son, and 3 pets- Bear (senior Lhasa Apso), Callie (senior Beagle/Australian Shepherd mix), and Bunny (young cat). Jackie had 2 cats, Bubba and Turbo, that Dr. Hipp helped to cross over the rainbow bridge in the comfort of her home where the cats lived and were most comfortable. Jackie enjoys spending time with family and friends, going on vacation and weekend get-aways, including going to her condo in Little River (North Myrtle Beach) when it is not rented, going to country concerts, and loves to relax with a good book.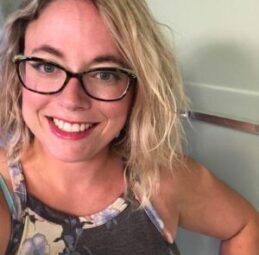 Jackie Karlic
Client Services